"Digital transformation (DX) is creating dynamic, decentralized, data-driven, automated, and self-learning workloads that must be integrated and orchestrated to deliver business solutions in this new world. A digital innovation strategy that does not include integration falls short of transformation, and legacy integration technology not built for this new hybrid and multicloud world won't cut it. The question is no longer about "if" legacy integration and orchestration technology needs to be replaced; rather, the question is about "when" and "how" to replace it. Technology that enables scalable, dynamic, flexible, and secure integration and orchestration solutions to support event-driven, real-time, and service-oriented business processes across hybrid and multicloud environments is the new foundation of any digital transformation strategy. This paper examines the need for meeting the demands of integration and orchestration in hybrid and multicloud IT environments, looking specifically at the important role integration platform as a service (iPaaS) can play in application, API, and data integration."
The foregoing abstract for the IDC Market Spotlight whitepaper entitled "It's a New World: Hybrid and Multicloud Drive the Need for iPaaS and APIs as New Digital Utilities" (idc.com,  April 2018
Adapted from DX Platform: A Framework for Integration and Orchestration Services by Stewart Bond, Maureen Fleming, Mike Rosen, IDC #US43383918) describes how organizations may effect digital transformation (DX) to maintain competitiveness cost-effectively. Here is the iPaaS schematic: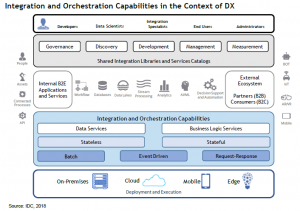 A conservative approach to DX is described in the Conclusion of the cited paper: "Legacy on-premises integration technology not built for hybrid and multicloud environments will struggle to meet the demands of digital transformation, but as organizations approach deployment of integration and orchestration services on an iPaaS, cloud ease of use and self-service may result in abandonment of software development life cycle (SDLC) best practices. This would be a mistake because even though the solutions may be easier to build and deploy on an iPaaS, qualities of service required across hybrid and multicloud environments can be more complex. Rather, best practices need to be adapted into new DevOps and agile methods enabled by the ease-of-use features in an iPaaS."

CHARTSaaS© specifies a software development environment (SDE) that is architected for use by healthcare provider subject matter experts (SMEs) to design, develop, deploy, operate and optimize mobile information technology (IT) applications or "apps" with minimal IT staff assistance or impact on IT system resources. These apps can to provide real-time cognitive support by automating standard-of-care and best-practice processes such as pathology-specific clinical pathways, differential diagnosis or treatment planning using features for process/case design, Boolean rules/decision design, Bayesian multi-dimensional similarity and predictive analytics, connectivity and interoperability with electronic health record (EHR) systems and other CHARTSaaS© subscriber sources of data. The healthcare provider SME can operate these features using drag-and-drop and point-and-click techniques design, develop, deploy, operate and optimize mobile apps.
Please validate this proposition to your own satisfaction by reading the white paper or viewing a presentation. You will see how CHARTSaaS©-built apps can mitigate medical mistakes (currently the third leading cause of patient deaths in the USA, per Makary and Daniel); thereby minimizing patient adverse events and optimizing clinical case outcomes while maximizing the cost-effectiveness of care and treatment and also accelerating the accrual and facilitating the application of medical knowledge. Please contact me, Pete Melrose, at jpetermelrose@gmail.com or +1 (612) 201-2301 to discuss and decide re how you or your organization can participate in development completion and launch of CHARTSaaS©. Patient lives may depend on your decision. Thanks for your consideration and hopefully your support, and good wishes for another great day!