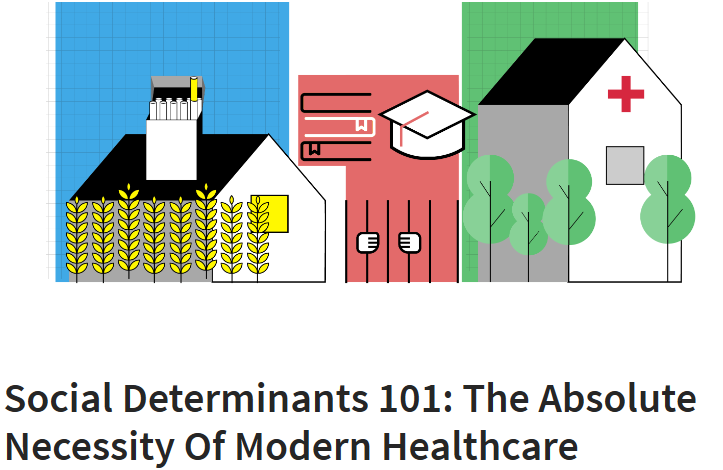 "The Five Denominations of Social Determinants
The social determinants of health (SDOH) shape and affect the distribution of ethnicity, money, power, and resources. SDOH can be grouped into five major groups:
Economic Instability: Poverty, employment, food security, housing stability
Education: High School Graduation, Enrollment in Higher Education, Language and Literacy, Early Childhood Education and Development
Social and Community Context: Social Cohesion, Civic Participation, Discrimination, Incarceration
Health and Health Care: Access to Health Care, Access to Primary Care, Health Literacy
Neighborhood and Built Environment: Access to Healthy Foods, Quality of Housing, Crime and Violence, Environmental Conditions
In a nutshell, the social determinants of health have a major accountability in an individual's ability to understand the importance of healthcare. It directly connects to the availability and access to care and enhancing their health.
The Challenges in SDOH
U.S. spends the most on healthcare and still experiences a lower life expectancy and higher infant mortality rates than countries as developed as the U.S. There are some strategic challenges with SDOH providers frequently face:
 Lack of knowledge and consensus: More often than not, there is no precise mechanism, standards, or tools to implement broad patient-level programs. It is of utmost importance that defining data about social determinants affecting people's health is present.
Difference between social services and healthcare organizations: Healthcare organizations and social services share a common set of goals when it comes to delivering value in healthcare. The absence or poor communication between organizations creates gaps in care delivery.
Lack of a common alignment: Absence of a consensus on many fronts creates confusion. Other questions like who will collect data and how, how will it be made available to providers, and how to connect patients with figures still prevail. Moreover, patients' consent could also be a roadblock.
Rigid technology: There is a need to develop the right kind of technology to collect data and identify anomalies across patient data. Moreover, it's vital to have a platform much [more] evolved than EHRs that facilitates analytics and data sharing."
In the foregoing quote from his March 28, 2017, LinkedIn post entitled "Social Determinants 101: The Absolute Necessity Of Modern Healthcare" (http://bit.ly/2ol3W2T); Abhinav Shashank, CEO & Co-founder at Innovaccer, recognizes "rigid [information] technology" as a significant impediment to the incorporation of analytics and data in the practice of medicine and the delivery of healthcare. Without these features, it is difficult if not impossible to appreciate and then to leverage SDOH in patient care and treatment.
Please validate this proposition to your own satisfaction by reading the white paper here at http://bit.ly/2nhwqpd and then by reviewing the details of CHARTSaaS and the CHARTSaaS RA in these presentations: